DMC Voyel Incoming
For over 25 years, Voyel Incoming has been designing and organising tours in France for groups of foreign visitors (from 8 people). Our wide-ranging expertise is testimony to our great flexibility and adaptability:
Educational trips for groups of young foreigners
Themed tours for adult groups (history, arts and culture, local produces and gastronomy, nature and landscapes, religious heritage, etc.)
Short breaks for working people (theme parks, city weekends, etc.)
Regional discovery breaks in Western France…
Thanks to a network of carefully selected partners and meticulous organisation of each trip, our customers are always satisfied, and their loyalty is our greatest reward.
Learn more about Voyel Incoming
History
VOYEL SAS, was created in February 1994. This tour operator activity was present from the creation of the "Travel" pole of the Hervouet International Group (of which Voyel was part), in the late seventies. Since 2009, VOYEL and his twenty tourism professionals have been on their own.
We are specialized in the production and commercialization of tours and tourist stays, in France and worldwide, for groups. Our activities range from group tourism (adults and young people) to incentive trips seminars, conferences, tour operatoring and receptive tourism under the brand name « Voyel Incoming ».
VOYEL is member of national groupings (CEDIV) while preserving its identity, personality and independence.
Specialties
For our international clientele
Tailor-made trips for adult groups
At Voyel Incoming we create tailor-made trips all over France in accordance with the expectations of our customers. Whether it is a tour of France, a regional tour (Brittany, Normandy, Bordeaux area, Loire Valley…) or a thematic tour (wine, agriculture, spirituality…), we handle everything for you (transport, accommodation, catering, guides, visits, activities, entertainment…)!
School groups / Youth groups
We offer a full range of services for young foreigners and schools wishing to travel throughout France in groups or small groups :
Transportation: coach, train, public transports…
Accommodation: holiday centres, budget hotels, 2-star to 4-star hotels…
Home-stay accommodation
Organization of visits: monuments, museums, companies, local crafts…
Organization of sports activities, school visits etc
Organization of French classes, cooking, painting, drawing lessons…
For our French clientele
Under the brand name "Escapades Grand Ouest", we produce and market day trips, short stays and tailor-made tours for our domestic clientele in western France and from 8 people.
This area goes from Normandy to Bordeaux and includes the Perigord, Britanny and the Loire Valley just to name a few.
All our itineraries are flexible and we customize them in accordance with customer requirements. We handle everything: accommodation, meals, visits, show ticketing, special entertainment, team building activities, room rental etc.
Because of our localization, one of our specialties is the organization of short stays at the « Puy du Fou® » historical park (from 2 days / 1 night).
Our values
Our longevity is the result of our know-how and our professionalism. Our success is based on the competence of our staff, our local knowledge and our involvement, at every stage of your project. We are all driven by the same desire: to be the architects of a great experience and to help you achieve it.
Our values are :
Expertise and reliability
Commitments and integrity
Listening and exchange
Creativity and openness
Reactivity and availability
The agency and its destination proposals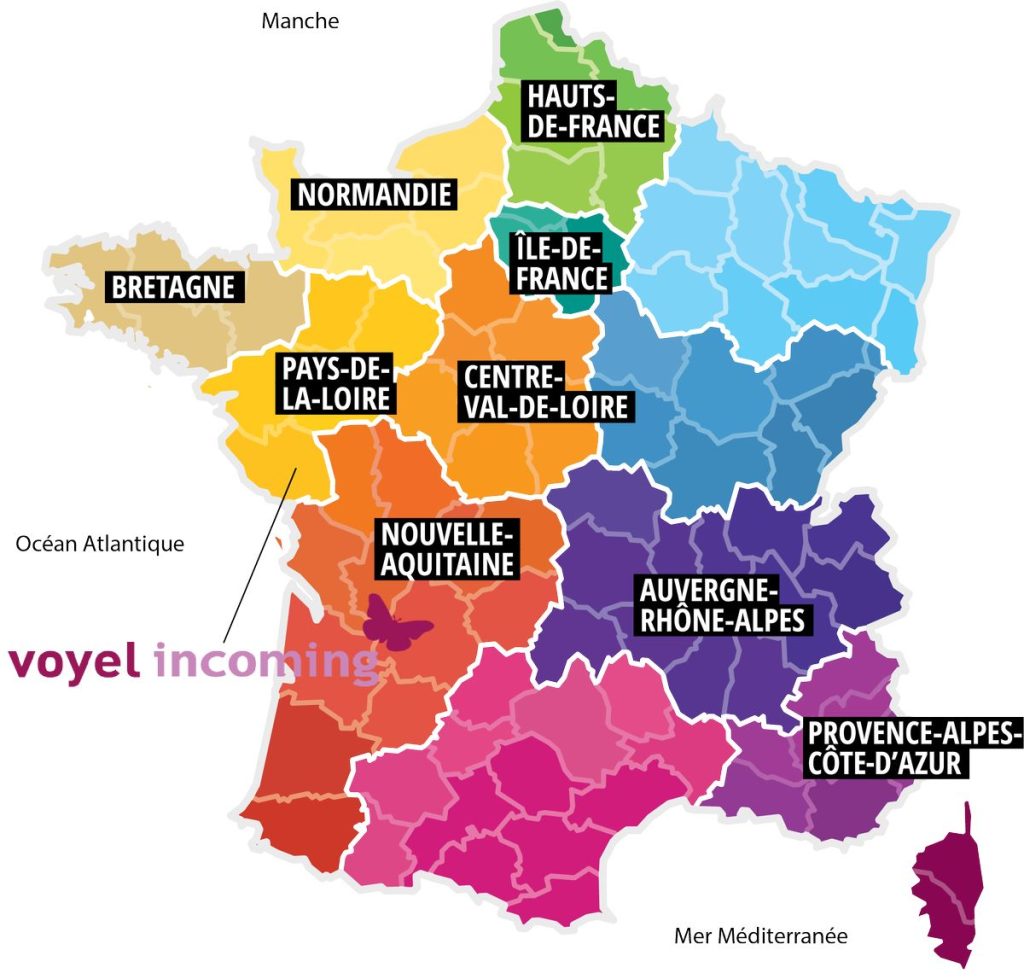 Immatriculation Atout France : IM085100009
Travel themes in the agency's catalog
The agency Voyel Incoming can help you organize your stays around the following themes:
Place of remembrance
Heritage and museum
Educational stay
Wine tourism
Gastronomy
Seaside
Leisure park
Know how and craft
Spirituality
Nature and wide open spaces
Sport
Contact-us
Crédits Photos © : Renan Calarnou – Voyel / Compagnie Vendéenne – Port de la Meule / Fotolia 67297671 – 44 Chateaunantes – BRADPICT