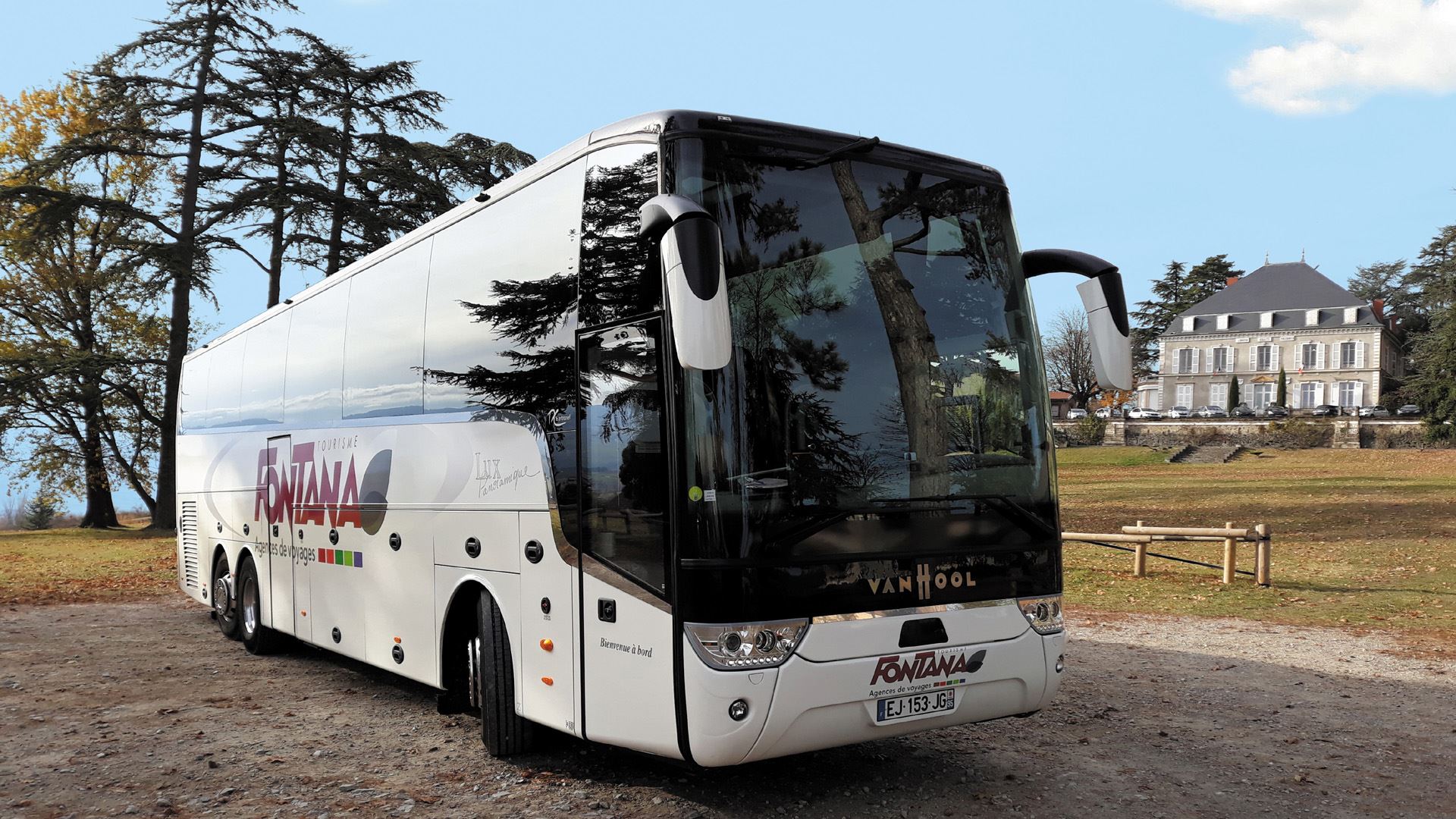 DMC Ideal Travel by Fontana Tourisme
As an incoming agency and event organizer in Lyon and the surrounding region, we offer tailor-made packages, with or without transport in a Grand Tourisme coach, as well as personalized welcome and guidance for your groups, and management of your bookings.
Our incoming agency IDEAL TRAVEL & EVENTS by Fontana Tourisme is your specialist for Lyon and the Auvergne Rhône-Alpes region.
We can organize your entire group stay (from 10 people upwards) to offer you the best of our destination according to your expectations!
Over 10 years of expertise in collaboration with our trusted partners.
Learn more about Ideal Travel by Fontana Tourisme
History
Fontana Tourisme is a family business. In 1986, the couple Corynne and Alain FONTANA, managers of the coach transport company FONTANA, decided to extend the activity to travel organization.
Thus, was born the travel agency located in Brignais.
In 2002, a new agency was created in Neuville sur Saône, with Laurence FONTANA. Fontana Tourisme is a passion for successful and tailor-made travel, passed down from generation to generation with various services :
Travel for individuals
Group travel
In 2005, the Incoming travel service was created with a Leisure and Events component :
Ideal Travel incoming service: organization of trips and stays for groups and individuals in the Auvergne Rhône-Alpes region and the rest of France.
Ideal Events event service: organization of seminars and corporate events in order to create, bring together, and promote your business and your val
Specialties
Our service in 4 steps :
Tailor-made service with a first phase of planning your stay according to your expectations.
Program design and discussion on your wishes, activities, hotels, transport and favorite places to visit.
Support of your project from A to Z with the same interlocutor.
24 hour assistance on site.
What type of stays ?
Leisure stays around culture, gastronomy, wine tourism, nature, well-being, …
Event stays through the organization of seminars, incentives, Gala evening, Trade fairs, Congresses …
We provide all the possible services for your stay : Accommodation, Catering, Guides, Activities, Entrances to sites, Transport, ..
Day trips or multi-day trips, everything is possible and flexible!
For who ?

Groups: Associations, Group of friends, Companies, Club, CE, …

Individuals and FIT: Family, Couples, Friends.
Our expertise :
Our core business is in the Auvergne-Rhône-Alpes region, please find below examples of programs:
Getaway weekend in the heart of Lyon and Beaujolais
Between Heritage, Gastronomy and Shopping from Lyon to Vienne
Land of Vines and traditions: Beaujolais, Burgundy and Rhône Valley
Themed stays on Architecture
Stays around New Year's Eve : Cabaret Show evening
Valley of the Gastronomy , from Dijon at the gates of Provence
Culinary discovery in Bresse
Between towns and Auvergne volcanoes
In the heart of the Alps
Stay around the Festival of Lights in Lyon
And many other.
Our values
We promote sustainable tourism with a strong encounter between travelers and service providers.
We wish to highlight all the expertise and know-how of our territory through educational and experiential visits.
Each service is a unique moment in the stay and not a simple step while waiting for the next one.
We ensure the quality of each service for successful customer service and support for your project from A to Z by the same interlocutor.
The social connexon and exchanges are the basis of good communication for a successful project, and long-term collaboration.
This is how we become partners together in turn.
The agency and its destination proposals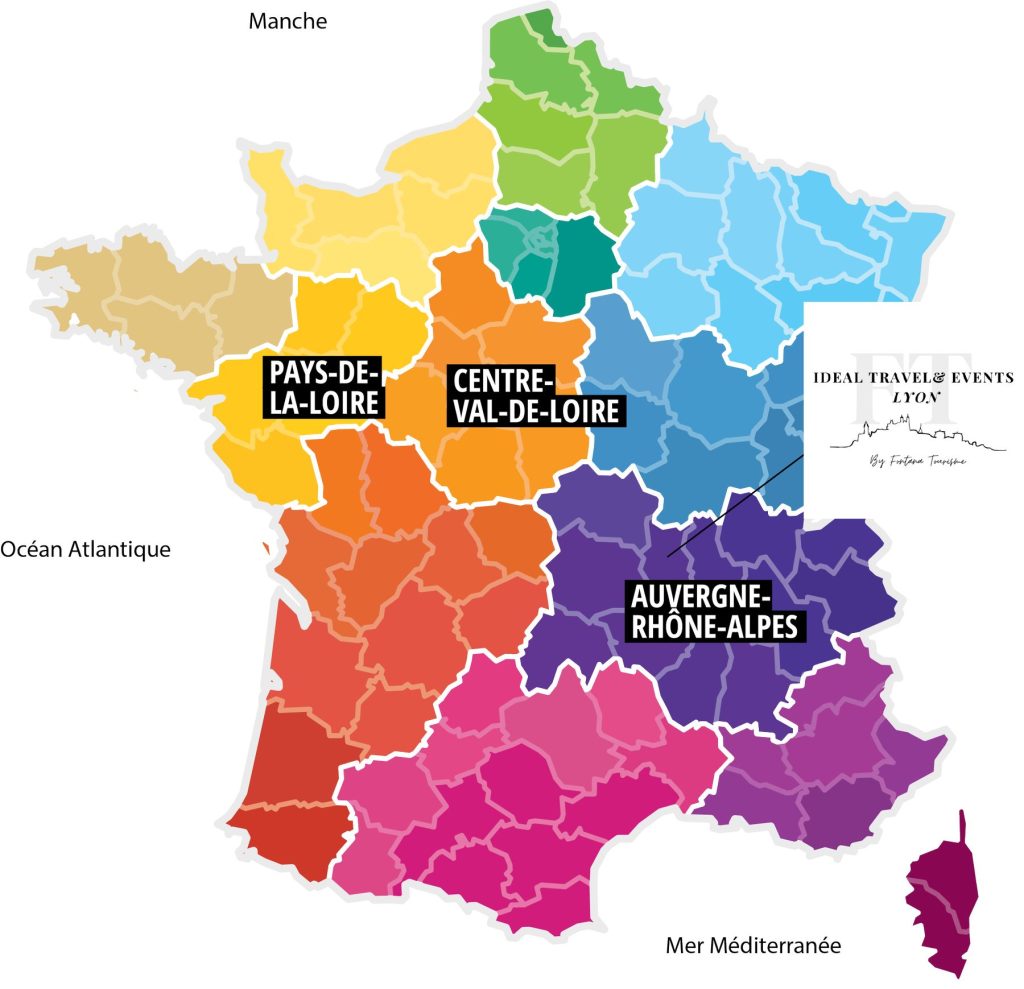 Immatriculation Atout France : IM069160018
FONTANA TOURISME
164 Rue Général de Gaulle
69530 Brignais – FRANCE
Travel themes in the agency's catalog
The agency Ideal Travel by Fontana Tourisme can help you organize your stays around the following themes:
Wine tourism
Heritage and museum
Cultural event
Gastronomy
Know how and craft
Nature and wide open spaces
Contact-us